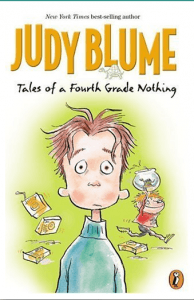 This morning, the class began our trek into literature circles.  Different from reading groups where we read smaller text to target specific skills and concepts, literature circles is the time when we read novels and come together to discuss our reading in a semi open-ended format.  True literature circles, where students have a choice in the books they are reading, will not begin until after February break.  Right now, we are introducing Lit. Circles to go over the routines and expectations with the lit. circle sheets and how we discuss books in class.  For this introductory period, each student will be reading Tales of a Fourth Grade Nothing.  In class, we will read the odd-numbered chapters and I will model the completing of parts of the literature sheet with each chapter.  The students will then read the next (even-numbered) chapter independently and complete the assigned piece of the lit. circle sheet on their own.  While time will be given in class each week, it will be impossible for student's to complete the entirety of the assignment at school; at home time will be essential.
In class we read Chapter 1 today and students received a "sample" lit. circle sheet (clipped in their binder).
After, they were assigned Chapter 2 and the Summary (yellow sheet) to be due on Thursday.  I have guaranteed that I will give them 30 minutes in class tomorrow to work on this assignment. (Mrs. Creighton and I will be assisting many students to make sure they are feeling confident in their reading and with their summary.)
If you would like to read along with your child and discuss the book, please feel free to do so.  The literature circle sheet should be done entirely by your son or daughter.  If they are unable to get through it, please send me an email so I may address that concern.